INFECTIOUS ARTHRITIS
INFECTIOUS ARTHRITIS
is a topic covered in the
Harrison's Manual of Medicine
.
To view the entire topic, please sign in or purchase a subscription.
Harrison's Manual of Medicine 19th edition provides 600+ internal medicine topics in a rapid-access format. Download Harrison's App to iPhone, iPad, and Android smartphone and tablet. Explore these free sample topics: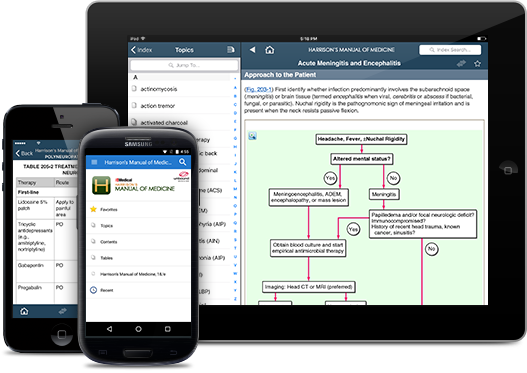 -- The first section of this topic is shown below --
Pathogenesis: Joints become infected by hematogenous seeding (the most common route), by spread from a contiguous site of infection, or by direct inoculation (e.g., during trauma or surgery). Acute bacterial infection can rapidly destroy articular cartilage as a result of increased intraarticular pressure and the elicited host immune response.
Microbiology: The predominant etiologic agents differ with the pt's age; S. aureus is the most common nongonococcal isolate in adults of all ages.

In children <5 years old, S. aureus, S. pyogenes, and Kingella kingae predominate.
In young adults, Neisseria gonorrhoeae is the most common etiology.
In adults, S. aureus predominates, but gram-negative bacilli, pneumococci, and β-hemolytic streptococci are involved in one-third of cases in older adults.
Other causes of septic arthritis include Borrelia burgdorferi (Lyme disease), tuberculosis and other mycobacterial infections, fungal infections (e.g., coccidioidomycosis, histoplasmosis), and viral infections (e.g., rubella, mumps, hepatitis B, parvovirus infection).

Epidemiology and clinical manifestations: The risk factors and presentation differ depending on whether N. gonorrhoeae is the cause.

– Nongonococcal bacterial arthritis: Risk is increased in pts with rheumatoid arthritis, diabetes mellitus, glucocorticoid therapy, hemodialysis, malignancy, and IV drug use.

In 90% of pts, one joint is involved—most often the knee, which is followed in frequency by the hip, shoulder, wrist, and elbow; IV drug users often have spinal, sacroiliac, or sternoclavicular joint involvement.
Pts have moderate to severe pain, effusion, decreased range of motion, and fever.

– Gonococcal arthritis: Women are 2–3 times more likely than men to develop disseminated gonococcal infection (DGI) and arthritis, particularly during menses and during pregnancy (see Chap. 83).

DGI presents as fever, chills, rash, and articular symptoms (migratory arthritis). The cutaneous and articular findings result from an immune reaction to circulating gonococci and immune-complex deposition; thus synovial fluid cultures are consistently negative.
In true gonococcal arthritis (which always follows DGI), a single joint (hip, knee, ankle, or wrist) is usually involved.

– Prosthetic joint infections: complicate 1–4% of joint replacements and are usually acquired intra- or perioperatively

Acute presentations are seen in infections caused by S. aureus, pyogenic streptococci, and enteric bacilli.
Indolent presentations are seen in infections caused by coagulase-negative staphylococci and diphtheroids.

– Reactive arthritis: follows ~1% of cases of nongonococcal urethritis and 2% of enteric infections (e.g., Yersinia enterocolitica, Shigella flexneri, Campylobacter jejuni, Salmonella spp.). Only a minority of pts have the other classic findings associated with reactive arthritis, including urethritis, conjunctivitis, uveitis, oral ulcers, and rash.

Diagnosis: If there is concern about joint infection, examination of synovial fluid from the affected joint is essential. There is considerable overlap in the cell counts due to different etiologies, but synovial fluid culture and examination for crystals (to rule out gout and pseudogout) can help narrow the diagnosis.

– Normal synovial fluid contains <180 cells (mostly mononuclear)/μL. Acute bacterial infection of joints results in synovial fluid cell counts averaging 100,000/μL (range, 25,000–250,000/μL), with >90% PMNs. Synovial fluid in gonococcal arthritis contains >50,000 cells/μL, but results of Gram's staining are usually negative, and cultures of synovial fluid are positive in <40% of cases. Other mucosal sites should be cultured to diagnose gonorrhea. Pts with septic arthritis due to mycobacteria or fungi can have 10,000–30,000 cells/μL in synovial fluid, with 50–70% PMNs. Synovial fluid cell counts in noninfectious inflammatory arthritides are typically <30,000–50,000/μL.
Gram's staining of synovial fluid should be performed. Injection directly into blood culture bottles can increase the yield of synovial fluid cultures.
Blood cultures are positive in 50–70% of cases due to S. aureus but are less commonly positive with other organisms.
Plain radiographs show soft tissue swelling, joint space widening, and displacement of tissue planes by distended capsule. Narrowing of the joint space and bony erosions suggest advanced disease.
-- To view the remaining sections of this topic, please sign in or purchase a subscription --
Citation
* When formatting your citation, note that all book, journal, and database titles should be italicized* Article titles in AMA citation format should be in sentence-case
TY - ELEC T1 - INFECTIOUS ARTHRITIS ID - 623646 ED - Fauci,Anthony S, ED - Hauser,Stephen L, ED - Jameson,J Larry, ED - Kasper,Dennis L, ED - Longo,Dan L, ED - Loscalzo,Joseph, BT - Harrison's Manual of Medicine UR - https://harrisons.unboundmedicine.com/harrisons/view/Harrisons-Manual-of-Medicine/623646/all/INFECTIOUS_ARTHRITIS PB - McGraw Hill Inc. ET - 19 DB - Harrison's Manual of Medicine DP - Unbound Medicine ER -