Chlamydia trachomatis and C. psittaci
Chlamydia trachomatis and C. psittaci
is a topic covered in the
Harrison's Manual of Medicine
.
To view the entire topic, please sign in or purchase a subscription.
Harrison's Manual of Medicine 19th edition provides 600+ internal medicine topics in a rapid-access format. Download Harrison's App to iPhone, iPad, and Android smartphone and tablet. Explore these free sample topics: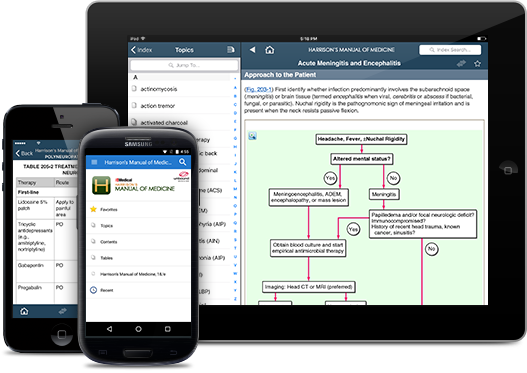 -- The first section of this topic is shown below --
MICROBIOLOGY
Chlamydiae are obligate intracellular bacteria, possess both DNA and RNA (a characteristic that distinguishes them from viruses), and have a cell wall similar to that of gram-negative bacteria.
These organisms have a complex reproductive cycle and exist in two forms.

The elementary body (the infective form) is adapted for extracellular survival, while the reticulate body is adapted for intracellular survival and multiplication.
Within 18–24 h after infection of the cell, reticulate bodies have replicated and begin to condense into elementary bodies that are released to infect other cells or people.

Three chlamydial species infect humans: Chlamydia trachomatis, C. psittaci, and C. pneumoniae.

CF tests and enzyme immunoassays that detect lipopolysaccharide identify chlamydiae only to the genus level.
The microimmunofluorescence (MIF) test can differentiate among the three species.
For a discussion of C. pneumoniae, see Chap. 97.
-- To view the remaining sections of this topic, please sign in or purchase a subscription --
Citation
* When formatting your citation, note that all book, journal, and database titles should be italicized* Article titles in AMA citation format should be in sentence-case
TY - ELEC T1 - Chlamydia trachomatis and C. psittaci ID - 623698 ED - Fauci,Anthony S, ED - Hauser,Stephen L, ED - Jameson,J Larry, ED - Kasper,Dennis L, ED - Longo,Dan L, ED - Loscalzo,Joseph, BT - Harrison's Manual of Medicine UR - https://harrisons.unboundmedicine.com/harrisons/view/Harrisons-Manual-of-Medicine/623698/all/Chlamydia_trachomatis_and_C__psittaci PB - McGraw Hill Inc. ET - 19 DB - Harrison's Manual of Medicine DP - Unbound Medicine ER -