EPIDEMIC AND EMERGING PROBLEMS
EPIDEMIC AND EMERGING PROBLEMS
is a topic covered in the
Harrison's Manual of Medicine
.
To view the entire topic, please sign in or purchase a subscription.
Harrison's Manual of Medicine 19th edition provides 600+ internal medicine topics in a rapid-access format. Download Harrison's App to iPhone, iPad, and Android smartphone and tablet. Explore these free sample topics: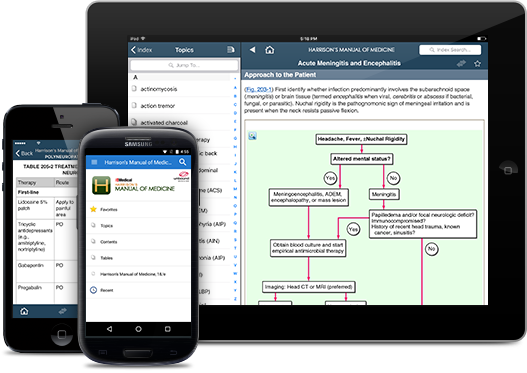 -- The first section of this topic is shown below --
Although outbreaks and emerging pathogens often receive a great deal of press, they account for <5% of nosocomial infections.
Influenza: The main components of infection control—vaccination of the general public and health care workers, early use of antiviral agents for control of outbreaks, and adherence to surveillance and droplet precautions for symptomatic pts—have been effective in controlling influenza, including the 2009 H1N1 pandemic.
Nosocomial diarrhea: Rates of health care–associated diarrhea have been increasing in recent years.

Rates of infection with Clostridium difficile—particularly the more virulent BI/NAP1/027 strain—are increasing, especially among older pts. Important infection-control components include judicious use of antibiotics (particularly fluoroquinolones); heightened suspicion in cases with atypical presentations; and early diagnosis, treatment, and implementation of contact precautions.
Outbreaks of norovirus infection should be suspected in bacterial culture–negative diarrheal syndromes in which nausea and vomiting are prominent aspects. Contact precautions may need to be augmented by environmental cleaning and active exclusion of ill staff and visitors, who often represent index cases.

Chickenpox: Routine vaccination of children and VZV-susceptible employees has made nosocomial spread less common.

If VZV exposure occurs, postexposure prophylaxis with varicella-zoster immune globulin (VZIG) is considered for immunocompromised or pregnant contacts.
Varicella vaccine or preemptive administration of acyclovir is an alternative for other susceptible persons.
Susceptible employees are furloughed for 8–21 days (or for 28 days if VZIG has been given).

Tuberculosis: Prompt recognition and isolation of cases, use of negative-pressure private rooms with 100% exhaust and at least 6–12 air changes per hour, use of approved N95 respirators, and follow-up serologic or skin testing of susceptible, exposed personnel are required.
Group A streptococcal infections: One or two nosocomial cases, usually involving surgical wounds and the presence of an asymptomatic carrier in the operating room, should trigger an investigation. Health care workers linked to nosocomial transmission of group A streptococci should not be permitted to return to pt care settings until eradication of carriage via antimicrobial therapy has been documented.
Fungal infections: Hospital renovations and disturbance of dusty surfaces can cause fungal spores to become airborne. Routine surveillance of neutropenic pts for infections with filamentous fungi (e.g., Aspergillus, Fusarium) helps determine whether there are extensive environmental risks.
Legionellosis: If nosocomial cases are detected, environmental samples (e.g., tap water) should be cultured; eradication measures should be pursued if typing of clinical and environmental isolates reveals a correlation.
Antibiotic-resistant bacterial infection: Close laboratory surveillance, strict infection-control practices, and aggressive antibiotic-control policies are the cornerstones of resistance-control efforts.

Molecular typing can help distinguish an outbreak of a single isolate (which necessitates an emphasis on hand hygiene and an evaluation of common-source exposures) from a polyclonal outbreak (which necessitates re-emphasis on antibiotic prudence and device bundles).
Organisms that raise concerns include methicillin-resistant S. aureus, gram-negative organisms that produce carbapenemases and/or extended-spectrum β-lactamases, pan-resistant strains of Acinetobacter, and vancomycin-resistant enterococci.

Bioterrorism preparedness: Education, effective systems of internal and external communication, and risk assessment capabilities are key features.
-- To view the remaining sections of this topic, please sign in or purchase a subscription --
Citation
* When formatting your citation, note that all book, journal, and database titles should be italicized* Article titles in AMA citation format should be in sentence-case
TY - ELEC T1 - EPIDEMIC AND EMERGING PROBLEMS ID - 623667 ED - Fauci,Anthony S, ED - Hauser,Stephen L, ED - Jameson,J Larry, ED - Kasper,Dennis L, ED - Longo,Dan L, ED - Loscalzo,Joseph, BT - Harrison's Manual of Medicine UR - https://harrisons.unboundmedicine.com/harrisons/view/Harrisons-Manual-of-Medicine/623667/all/EPIDEMIC_AND_EMERGING_PROBLEMS PB - McGraw Hill Inc. ET - 19 DB - Harrison's Manual of Medicine DP - Unbound Medicine ER -