COORDINATION AND GAIT
COORDINATION AND GAIT
is a topic covered in the
Harrison's Manual of Medicine
.
To view the entire topic, please sign in or purchase a subscription.
Harrison's Manual of Medicine 19th edition provides 600+ internal medicine topics in a rapid-access format. Download Harrison's App to iPhone, iPad, and Android smartphone and tablet. Explore these free sample topics: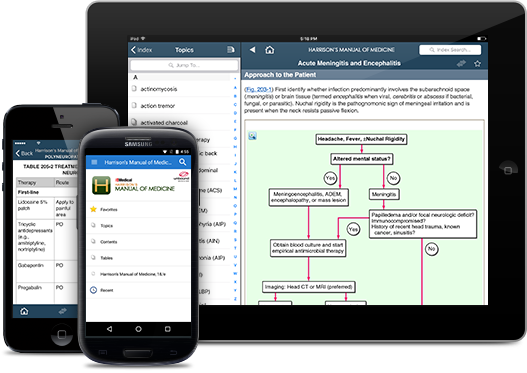 -- The first section of this topic is shown below --
The bare minimum: Test rapid alternating movements of the hands and feet, and the finger-to-nose maneuver. Observe the pt while he or she is walking along a straight line.
The ability to move the index finger accurately from the nose to the examiner's outstretched finger and the ability to slide the heel of each foot from the knee down the shin are tests of coordination. Additional tests (drawing objects in the air, following a moving finger, tapping with index finger against thumb or alternately against each individual finger) may also be useful. The ability to walk normally, on a straight line (tandem walk), and to turn should all be observed.
-- To view the remaining sections of this topic, please sign in or purchase a subscription --
Citation
* When formatting your citation, note that all book, journal, and database titles should be italicized* Article titles in AMA citation format should be in sentence-case
TY - ELEC T1 - COORDINATION AND GAIT ID - 623456 ED - Fauci,Anthony S, ED - Hauser,Stephen L, ED - Jameson,J Larry, ED - Kasper,Dennis L, ED - Longo,Dan L, ED - Loscalzo,Joseph, BT - Harrison's Manual of Medicine UR - https://harrisons.unboundmedicine.com/harrisons/view/Harrisons-Manual-of-Medicine/623456/all/COORDINATION_AND_GAIT PB - McGraw Hill Inc. ET - 19 DB - Harrison's Manual of Medicine DP - Unbound Medicine ER -