Procedures Commonly Performed by Internists
Procedures Commonly Performed by Internists
is a topic covered in the
Harrison's Manual of Medicine
.
To view the entire topic, please sign in or purchase a subscription.
Harrison's Manual of Medicine 19th edition provides 600+ internal medicine topics in a rapid-access format. Download Harrison's App to iPhone, iPad, and Android smartphone and tablet. Explore these free sample topics: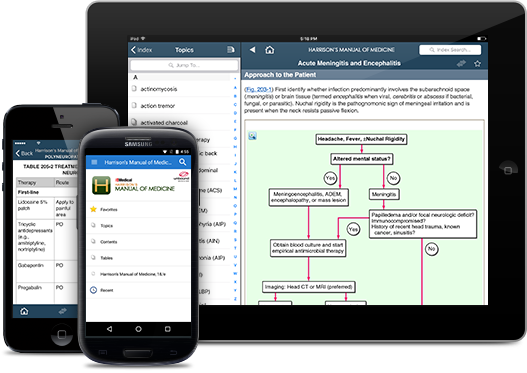 -- The first section of this topic is shown below --
Internists perform a wide range of medical procedures, although practices vary widely among institutions and by specialty. Internists, nurses, or other ancillary health care professionals perform venipuncture for blood testing, arterial puncture for blood gases, endotracheal intubation, and flexible sigmoidoscopy, and insert IV lines, nasogastric (NG) tubes, and urinary catheters. These procedures are not covered here, but require skill and practice to minimize pt discomfort and potential complications. Here, we review more invasive diagnostic and therapeutic procedures performed by internists—thoracentesis, lumbar puncture, and paracentesis. Many additional procedures are performed by specialists and require additional training and credentialing, including the following:
Allergy: skin testing, rhinoscopy
Cardiology: stress testing, echocardiograms, coronary catheterization, angioplasty, stent insertion, pacemakers, electrophysiology testing and ablation, implantable defibrillators, cardioversion
Endocrinology: thyroid biopsy, dynamic hormone testing, bone densitometry
Gastroenterology: upper and lower endoscopy, esophageal manometry, endoscopic retrograde cholangiopancreatography, stent insertion, endoscopic ultrasound, liver biopsy
Hematology/oncology: bone marrow biopsy, stem cell transplant, lymph node biopsy, plasmapheresis
Pulmonary: intubation and ventilator management, bronchoscopy
Renal: kidney biopsy, dialysis
Rheumatology: joint aspiration
Increasingly, ultrasound, CT, and MRI are being used to guide invasive procedures, and flexible fiberoptic instruments are extending the reach into the body. For most invasive medical procedures, including those reviewed below, informed consent should be obtained in writing before beginning the procedure.
-- To view the remaining sections of this topic, please sign in or purchase a subscription --
Citation
* When formatting your citation, note that all book, journal, and database titles should be italicized* Article titles in AMA citation format should be in sentence-case
TY - ELEC T1 - Procedures Commonly Performed by Internists ID - 623170 ED - Fauci,Anthony S, ED - Hauser,Stephen L, ED - Jameson,J Larry, ED - Kasper,Dennis L, ED - Longo,Dan L, ED - Loscalzo,Joseph, BT - Harrison's Manual of Medicine UR - https://harrisons.unboundmedicine.com/harrisons/view/Harrisons-Manual-of-Medicine/623170/all/Procedures_Commonly_Performed_by_Internists PB - McGraw Hill Inc. ET - 19 DB - Harrison's Manual of Medicine DP - Unbound Medicine ER -